Inside are other jewelry, cash, antiques shops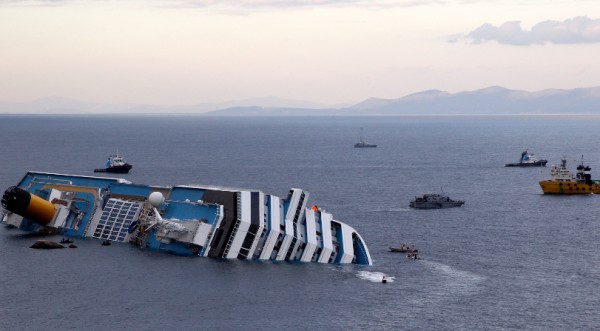 Photo: Reuters
During the chaotic evacuation of passengers and crew of the shipwrecked tourist liner "Costa Concordia" have abandoned almost everything on board - jewelry, cash, champagne, antiques shops and bohemian crystal chandeliers, dating from the 19th century, thousands of articles
art, including 300-year prints on wood, the work of Japanese artist.
In other words, a real treasure lies in Italian waters, where massive luxury liner shipwreck suffered last month, wrote Monday.
Although some items will rot in the bowels of the ship will remain sufficient value to tempt treasure.
Just as "Titanic" and countless other shipwrecks were stolen seekers of gold, weapons and other resources.
Maybe it's just a matter of time before the treasure hunters turn their attention to the submerged treasures of the "Costa Concordia", which traveled over 4,200 people.
"While there are corpses, the ship will be seen as inaccessible area because it will be considered a tomb. But when all bodies are removed, will race madly about the values ​​inside," said Robert Marx, a veteran diver and author of numerous books
maritime history, underwater archeology and treasure hunt.
He says that even the Mafia has a team of divers, specialized in the prosecution of submerged prey.
"Costa Concordia" was basically a floating luxury hotel, and many passengers boarded the ship with their misery most elegant clothing and jewelry to flaunting them in the casino and gala evenings under the high ceilings dotted with crystal chandeliers.
On top of that pyramid stands a sort of enormous wealth, owned the ship itself - shops, packed with jewels, over 6,000 works of art hanging on the walls of the vessel and spa center with a collection of prints on wood 300 years ago, Case
the Japanese artist Katsushika Hokusai.
"Now," Costa Concordia "is a paradise for lovers of underwater treasures," said Hans Reinhard, a German lawyer representing 19 German passengers who want compensation for losses suffered by them.
The lawyer argued that some of his clients have traveled with jewelry studded with diamonds and other valuables which were owned by families for generations.
"They lost a lot of jewelry and valuables - watches, necklaces, do everything you put women wanting to look good and elegant. They wanted to show everything we had," said the lawyer.
The massive liner worth 450 million dollars, but that's just the price of the vessel and the engine and this amount does not include other items on board, recalls David Barban, a spokesman for the company owner of the ship "Costa Krochiere."
Barban confirms that among submerged objects are furniture, a large collection of works of art, computers, wine, champagne and other valuables locked in the vaults of the cabins.
"Costa Krochiere" remains the legal owner of the ship and passengers continue to own the submerged values.
"But to make a quantitative assessment of all these objects is impossible, because unfortunately the ship sank. Until it is removed, there is no way to understand what it can be saved and what is not," said Barbie.
The ship ended up on an underwater rock near the Tuscan island of Jilin, after captain Francesco Sketino deviate from the approved course to get closer to shore and distractions to passengers with a close view of the island - a common practice for cruise liners.
Sketino is now under house arrest, charged with manslaughter, causing the wreck and abandonment of the ship before the complete evacuation of passengers.
He has confirmed the deaths of 17 people, 15 people still missing.
Now tipped to ship was seized by the authorities and surrounded by investigative teams from the teams that will pump the fuel and scientists who monitor his position on the rocks on which is stuck.
Civil Protection, which oversees operations, said in the recovery area is big, but authorities are not bothered by the threat of looting.
Civil defense plans to move the ship before the robbers can get to it.
After the shipwreck of the "Costa Concordia" the authorities have issued three documents forbidding people to converge on one sea mile from it.
This prohibition shall remain in force until the huge liner stand near Jilin, say coastal patrols.
"The ship is kept 24 hours. It is impossible for anyone to get close to him," said Lieutenant Massimo Makeroni representative of coastal patrols.
Director of Civil Protection Franco Gabrieli recently said it may take between 7 to 10 months for removal of 290 meters long liner after this work be awarded to contractors.
According to Robert Marx treasure hunters will inevitably embark on a hunt for sunken booty despite high risks because they are the debris from the vessel-free zone for everyone.
Marx believed that it would take 4 to 6 months before the real treasure hunt - partly because hunters gems will want to avoid the harsh sea conditions in winter.
Marx adds that some hunters postpone the search because the ship continues to slide on the rocks encountered and it is considered unstable.
But sooner or later, the treasure hunt will begin.
"Eaters jewels divers will want to accumulate wealth quickly," says Marx.
Even now there are people who try to profit from disaster.
In the eBay auction offered all kinds of memorabilia associated with the ship, coat hangers and medallions, which bear the name on the liner to card decks "Costa Concordia".
Marx points out that everything is delivered by the famous ship will have a value.
He recalls that even coal exported from the sunken 100 years ago 'Titanic', found a buyer.
"Even the crystal or porcelain plates from the ship will cost fortune," said the expert.
Reinhardt's lawyer says his clients want to return values ​​that most of them have sentimental value.
But at this stage they will have to be satisfied with an agreement on cash benefits.
"They would prefer to get their stuff instead of money, but have no hope that this will happen," said the lawyer.
(BTA)