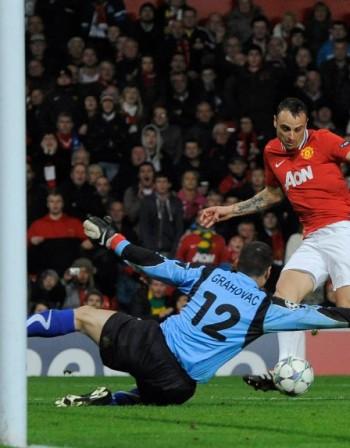 Manchester United and Benfica their neat spectacular 2-2 of "Old Trafford", the star of "Reds" Dimitar Berbatov is reported with a goal and was the best composition in English.

Mitko was at the heart of everything memorable in the forefront of United Defense and constant harassment of the guests with his unconventional plays.

He was the only striker in the attack on Sir Alex Ferguson, assisted by Ashley Young, at the end of the match and Javier Hernandez.
Mitko was struck by First it after more than three years of drought in the Champions League.

The match was incredibly dramatic, after Benfica failed to lead with an own goal by Phil Jones, but United came to a complete reversal by Berbatov and Darren Fletcher.
"Eagles", however, took the point after a goal by Pablo Aimar.

Overall, "Red Devils" controlled the meeting and must regret the missed victory as allowed outrageous mistakes in defense.
Benfica players deserve only admiration for the game and deservedly took a point from the "Old Trafford".

The equation allowed Benfica to rank up, but United will not have to lose against Basel in the last game to continue the next phase.
Source: dnes.bg