One
of the greatest
boxers
of all time
With his championship belt and a pair of boxing gloves near his head, former world boxing champion for professional heavyweight Joe Frazier was buried in the Baptist church in Philadelphia.
The Rev. Jesse Jackson attended the funeral asked to become, to join hands and "the last time to show their love" to the former world champion.
Funeral ceremony ended with ten strokes of the gong boxing, which means the world of boxing "knockout".
At the funeral ceremony attended by the largest rival Joe Frazier in the ring - Mohammed Ali.
Dressed in a black suit and sunglasses, Mohammed Ali, who suffers from Parkinson's disease was supported by his wife Lonnie, who held him by the hand when entering the church and helped him in the corner and becoming.
The ceremony was attended by friend and longtime Philadelphia and world welterweight champion Bernard Hopkins, former world heavyweight champion Larry Holmes Boxing promoter Don King.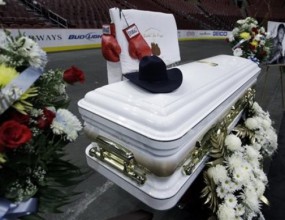 "We make history together. We tried to make America better," said Don King.
4000 was in the Baptist church and about a two hour service for Joe Frazier, who died at age 67 from liver cancer on November 7.